L.I.F.E. LONG-a true new yorker with love for hip hop, ladies, kicks, piff and all that other good stuff that makes life worth living. He´s out with a new dope album and I wanted to know a little more so here it is-the unscensored interview with L.I.F.E:
Peace to the FSFer's and all my hip-hop, piff burnin, kick and gear heads! I am L.I.F.E. LONG (LIVING IN FULL EFFECT)
I´ve been doing this for a lil minute now actually over a decade, I appeared on alot of the classic indie records such as Cannibal Ox´s, COLD VEIN, Anti Pop Consortium "The Tragic Epilogue" with Pharoahe Monch plus I roll with the mighty STRONGHOLD crew. I am a founding member. Shout out to the other crews: Creative Juices, Tha Team, Elite Fleet, D.M.O and so much more.
L.I.F.E rockin with Swave and RESPECT
My new album is called Longevity 1.5 out on the french label Ascetic Music. It´s crazy because I waited a long time for this project to drop and it´s out now in Europe and will hit the US and Japan April 24th! It features the talents of Iomos Marad, U.G. from the legendary Cella Dwellas, Mista Sinista, Apani B, Black Panther, 2 Hungry Bros, Spier 1200 and Many Styles. Its my first full length album since my E.P Strugglers Paradise that dropped in 2003.
Its an album based on me, it´s like if I let the listener get in
my brain for a minute!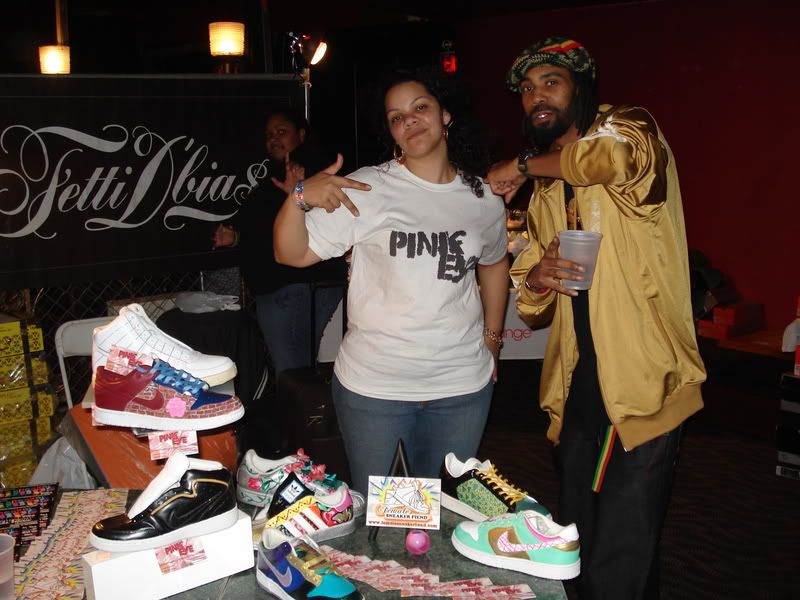 L.I.F.E. really liked the FSF booth(who didn´t??) at Sneaker Pimps NYC 2007, here he is with E the custom queen
Since I´ve gotten to know you your sneaker collection has really grown. Name your 3 favorite pairs:
L: My sneaker collection is nothing compared to your's Sandy!! My collection is growing though lol. My favorites are The Air Revaderchi´s that dropped in 92. I don't think they ever reissued them! My tweed Terminator's (Big up to my swedish connects lol), and I guess it would have to be my Negro League Airmax (Big up to wifey for coppin those).
What is gonna be your next pickup:
L: Hmmm that's a hard one cuz there's something I like
every month. New York gets everything so I'm constantly
seeing stuff that I wanna cop! Probably the black Dunk Trainer's with a lil bit of camo, they are sick!
Maybe some exclusive Nike ID´S. Shit actually a idea me and my boy Ape who I´m doing an album with called Crossing the Globe! We are going to design a sneaker for the album so that is I guess the special sneaker I'm waiting for!
Big Ape, L.I.F.E. and FSF Jae holdin it down
My favorite brands are of course Nike and Adidas, I also like Puma and New Balance.
You wanna cop an album? L.I.F.E never goes anywhere without his cd´s, you never know who you´ll run into!!Here he is rockin some hot Adidas gear, Big Ape sittin next to him
What`s the plan for the future, any new music on the way?
L:I got alot of stuff coming! Crossing the Globe an album produced by my swedish producer Big Ape, that's the next album. After Crossing the Globe we got "The waiting Game" produced by Black Sparx, plus I'm featured on hella stuff!
Any last words?
Peace to the Kick Queen Sneaker Sandy who inspired me to
up my game! Thanks ma! Of course my partner in crime Big Ape! You know my crew's and peeps! Stronghold, Creative Juices, 2 Hungry Bro's, Respect tha God! Elohiem Stahr, Crown a thornz, Iomos Marad, U.G. Prince Po all my people's and of course my lady what up baby!(Impress Tru) and my mom's and my sista. Nuff said! One love! Go cop Longevity vol 1.5 Out now on Ascetic music and check out myspace:
http://www.myspace.com/lifelong
/l.i.f.e.long
L.I.F.E. now a modell? This dude is everywhere lol. Magazine add for METHODS NYC