Chicago,IL
Brooklyn,NY
Oakland,CA
Miami, FL
Alexis Mincolla and Embrace present… NEW YEARS EVE @ HEATHROW LOUNGE with DJ Tamara Sky, Roxy Cottontail, Damaged Goods and Contra
Heathrow Lounge 681 Washington Avenue South Beach, FL
Playboy's baddest Playmate, and the only one that can actually rock a party behind the decks (and often does topless), Tamara Sky, Globetrotting Party Queen Roxy Cottontailand infamous DJ Contra. Production by South Beach's Lord of Chaos and Black Sunday's Alexis Mincolla. This ain't no stuffy poolside cocktail party, this is a NYE event worthy of the occasion! Premium open bar 10pm-12:30am, champagne toast, and madness included. Tables available but running out.
Tickets: $125 w/ Open Bar 10PM-12:30AM $40 w/out Open Bar The madness continues until 7 AM!!! - For tickets and Bottle reservations contact mike@poundproductions.ca
New York, NY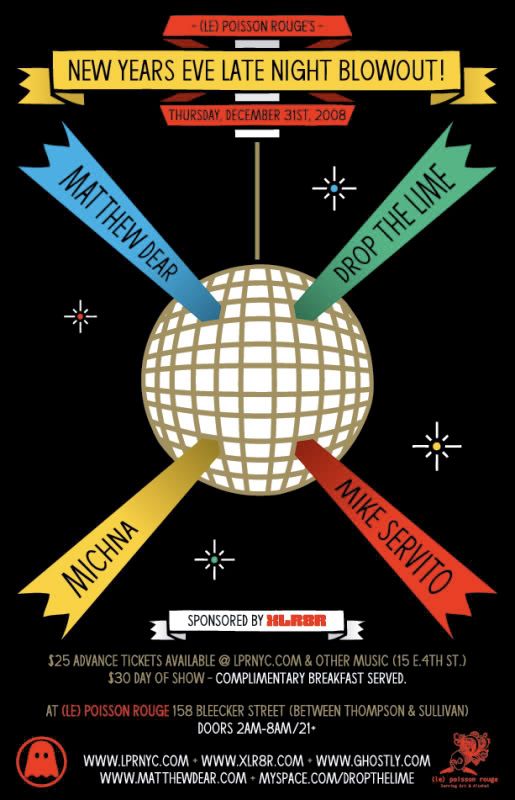 Pure Butter, End of the Weak, 1900's, Leroy Jenkins Lmtd, Scott On The Rocks, Vane & Bambu Papers Present a night to remember...........
Wednesday Dec, 31st

KENNY LOFT'N 5th Annual New Years Eve Party 14,000 sq ft 2 floors 

544 West 38th st b/w 10th and 11th (Manhattan, NYC)

B.Y.O.
Bottles!! we'll provide you with all the ice, cups, and mixers you need!
but in case you forget....
OPENBAR 10pm- 2am -
Beer, Vodka, Kenny's KrunkJuice
Free Champagne Toast

Dj Melo X
Dj Treats & Dj Fish
spinning Classics, Soul, Funk, Hip Hop, Reggae and all that good stuff!!

Photos by Mel D.
Cole (villageslum)

$50 at door
$40 with RSVP at Kenny.loftin@gmail.com
(Kenny's list)
9:30-4am
21+

Rsvp @ Kenny.loftin@gmail.com